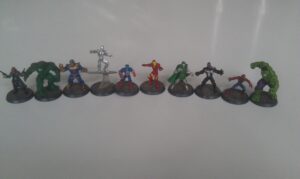 A while back I orderd three different starter sets for HeroScape. I was very frustrated about the fact that the figures in the Marvel set were missing but after having contacted Noble Knight Games the promised to send the figures from another set they had.
I just got the missing figures from the HeroScape Mavel set. They look stunning!  I want to give a big thumbs up to Noble Knight Games for the excellent customer service they provided when I told them my set was missing the characters.
The kids have already started playing with them!