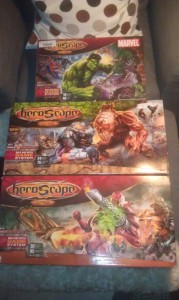 Last Saturday I received an order from Noble Knight Games with three different master sets inside! Both me and my kids were equally excited as we opened up the packages to find scores of figures and terrain tiles.
There was a slight dip in the joy as I opened up the Marvel Master set because it was missing its figures! Luckily enough the folks over at
Noble Knight Games were very service minded and has sent me the missing figures from another of their Marvel sets. Top notch customer service in my book!
We spent the better part of Sunday building different battlefields and playing the game. It was a blast.
This Tuesday the kids set up a battlefield while I cooked dinner and then we played three armies,  them against me. Even Elliot, my six year old, has managed to learn the advanced rules without any problem and he loves playing with the sturdy figures even when we are not playing the game. Definitely money well spent.